*All other brand or product names located in this site are Trademarks of their respective holders.
Pravastatin Sodium Tablets

One or more attributes of this product has changed in the last 6 months.
---
NDC Number :
60505-0168-09
Active Ingredient :
Pravastatin Sodium
Bioequivalent to * :
PRAVACHOL®
Therapeutic Class (AHFS) :
HMG-CoA Reductase Inhibitors
Pack Size (Form) :
90 TABLET (BOTTLE)
Color :
Light pink

Markings :
"APO"/"PRA" over "10"
Route of Administration :
Oral
Storage Condition :
Controlled Room Temperature (68 - 77 degrees F)
Minimum Order Quantity :
12
Multiple Order Quantity :
12
Packaging Information :
Packaging Information

| | Length | Width | Height | Weight | Units/Pack |
| --- | --- | --- | --- | --- | --- |
| Unit | 1.8 in | 18 in | 3.3 in | 0.06 lb | N/A |
| Inner | 7.1 in | 5.3 in | 3.3 in | 0.77 lb | 12 |
| Case | 16.2 in | 7.1 in | 7.4 in | 5.19 lb | 72 |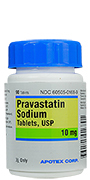 not to scale