*All other brand or product names located in this site are Trademarks of their respective holders.
Levetiracetam Extended-Release Tablets

New product launched on August 12, 2019.

One or more attributes of this product has changed in the last 6 months.
---
NDC Number :
60505-3517-06
Active Ingredient :
Levetiracetam
Bioequivalent to * :
KEPPRA® XR
Therapeutic Class (AHFS) :
Anticonvulsants, Miscellaneo
Pack Size (Form) :
60 TABLET (BOTTLE)
Dosage Form :
Tablet, Controlled Release
Color :
White

Shape :
Capsule shaped, biconvex
Markings :
"APO"/"LXR 750"
Route of Administration :
Oral
Storage Condition :
Controlled Room Temperature (68 - 77 degrees F)
Minimum Order Quantity :
12
Multiple Order Quantity :
12
Packaging Information :
Packaging Information

| | Length | Width | Height | Weight | Units/Pack |
| --- | --- | --- | --- | --- | --- |
| Unit | 1.8 in | 1.8 in | 4.3 in | 0.2 lb | N/A |
| Inner | 7.1 in | 5.3 in | 4.3 in | 2.39 lb | 12 |
| Case | 16.2 in | 7.1 in | 9.1 in | 14.94 lb | 72 |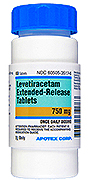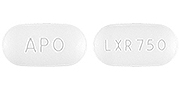 not to scale