Our Leadership
President & Chief Executive Officer
Jeff is President & Chief Executive Officer (CEO) of Apotex. Appointed in 2018, Jeff oversees a global workforce of 7500 and the day-to-day operations of Apotex, including research and development, manufacturing, packaging and distribution of products across three Lines of Business to more than 115 countries around the globe.
Prior to this role, Jeff served as President & Chief Operating Officer, Apotex, as well as President, Global Generics, the largest line of business at Apotex, where he provided leadership for the Commercial and Strategic Operations and was instrumental in delivering significant growth. A 25-year veteran of Apotex, Jeff has held progressively senior positions with Sales and Marketing since 1993 when he joined the company.
Before joining Apotex, Jeff spent time working in the retail pharmacy sector for Shoppers Drug Mart, Canada's leading pharmacy chain.
Jeff has been a member of the Association for Accessible Medicines (AAM) Board of Directors since 2012 and served as Chair in 2017. He was re-elected as Chair in 2018. In 2008 he became an Executive Member of the Canadian Generic Pharmaceutical Association's (CGPA) board. From March 2015-February 2017, he served as Chair of CGPA's board following three years of service as Vice Chair. Jeff is a former Chair of the US Healthcare Distribution Alliance's (HDA) knowledge partner, the HDA Research Foundation. He is also the Chair of the Board of Directors for TruLeaf Sustainable Agriculture, Nova Scotia, Canada. Following a JV with Arrow Pharma in Australia in 2019, Jeff serves as a Board member of the new entity Arrotex Pharmaceuticals.
From 1986 to 1988, Jeff played professional football in the Canadian Football League (CFL).
---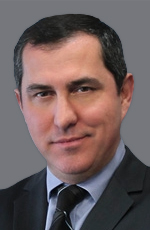 Américo García
Managing Director, Latin America
Américo García joined the Apotex® team in 2014 as Managing Director for Latin America (LATAM). Under his leadership are the finished product operations, supply chain, research and development, and the medicines marketing for the LATAM region, where he has contributed with a strategic approach based on a participative leadership.
He has held various positions within the Pharmaceutical Industry as well as several executive posts in multinational companies such as Deloitte Consulting, Organon in Mexico, Colombia, Peru, and Ecuador; Bayer Healthcare in its Regional Office for Latin America and Hospira as Managing Director for Latin America.
Américo is a graduate of ITESM and holds a Master's Degree in Business Administration and Leadership from the DUXX Business School and the INSEAD Business School of France.
---