*All other brand or product names located in this site are Trademarks of their respective holders.
Paroxetine Hydrochloride Tablets USP
---
NDC Number :
60505-0097-04
Active Ingredient :
Paroxetine Hydrochloride
Bioequivalent to * :
PAXIL®
Therapeutic Class (AHFS) :
Antidepressants
Pack Size (Form) :
1000 TABLET (BOTTLE)
Color :
WHITE TO OFF-WHITE
Markings :
"APO" WITH PARTIAL BISECT SCORE / "097"
Route of Administration :
Oral
Storage Condition :
Controlled Room Temperature (68 - 77 degrees F)
Minimum Order Quantity :
12
Multiple Order Quantity :
12
Bioequivalency Information :
Apotex BioEquivalency Disclaimer
On this website we provide information to the public on results of certain clinical trials sponsored by Apotex In, for products marketed in the United States.
If you are presently in a physician's care, please note that this website does not propose to offer you therapeutic assistance or therapeutic suggestions, nor should this keep you from continuing to seek your doctor's advice.
Healthcare professionals should not view this website as a prescription consultation service. Please rather refer to the prescription information which is approved by the FDA. The website only provides supplemental information which might be helpful for you.
Often there will be more than one trial pertaining to your area of interest. The data from one trial has to be seen in the context of data from other trials plus the range of research for each specific medication.
Apotex Inc. has compiled the contents of this website with utmost care. However, the information given here may differ with data published elsewhere. This may occur due to the limited scope of this website. In case of doubt, please refer to the prescription information which is approved by the FDA.
To view this information, please indicate your agreement with our disclaimer by selecting the appropriate button below.
Packaging Information :
Packaging Information

| | Length | Width | Height | Weight | Units/Pack |
| --- | --- | --- | --- | --- | --- |
| Unit | 2.2 in | 2.2 in | 4.7 in | 0.372 lb | N/A |
| Inner | 9 in | 6.7 in | 4.7 in | 4.46 lb | 12 |
| Case | 14.4 in | 9.3 in | 14.4 in | 30.73 lb | 48 |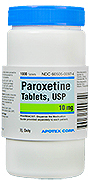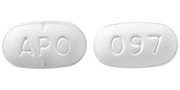 not to scale